In-House Design & Construction Services
Engineering Management Building Lecture Hall
Constructed in 1986 with the original building, Engineering Management Room 103 was considered a state-of-the-art lecture hall seating 58 students. Since that time, Missouri S&T has increased enrollment and with it the demand for lecture halls that seat more than 80 students.
By late 2012, Lecture Hall 103 was falling behind S&T's current architectural and technology standards and became outdated in comparison to similar sized lecture halls on campus. In design phase, several inefficiencies identified were the steep-stepped floor, the small radius of the curved fixed seating, and a rear projection room which was no longer being utilized. Additionally, multiple maintenance issues were identified: an inaccessible gypsum ceiling, non-standard presentation technology, broadloom carpet, and discontinued fixed seating.
The new design captured the previously unused square footage of the rear projection room and modified the floor design to allow for a more efficient use of the space. A suspended, acoustical tile ceiling now allows for simpler maintenance of above ceiling systems. New, higher efficiency light fixtures were installed to reduce energy usage. Easier to maintain finishes were selected, including carpet tile and seating fabrics with a protective finish.
Lecture Hall 103 boasts a capacity of 99 students, offering fixed and ADA accessible seating. The new design facilitates more comfortable sightlines from any point in the room. Additionally, the room is equipped with two projection screens, allowing the instructor to project different images on each screen while using an integrated audio system for any content requiring audio playback.
Renovating an underutilized room on campus allowed S&T to address deferred maintenance of an existing space while avoiding the higher cost of new building construction.
After Construction: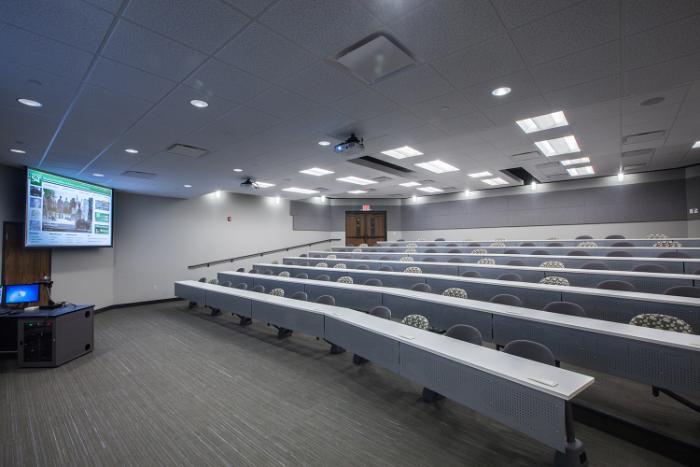 Before Construction: